About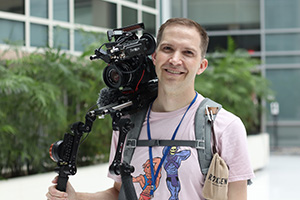 Flannel Ninja
is an independent content creator with a combined focus on fan conventions, cosplay, and camera and video technology. Content is released through two different sets of social media sites - one simply called
Flannel Ninja
and the other
Flannel Ninja Tech
.
Cosplay and fan convention content is posted under the Flannel Ninja name, while Flannel Ninja Tech produces reviews and comparisons of camera equipment and video technology. Social media links are listed below in the footer.
Besides being an enormously fun experience, attending events such as comic and anime conventions is an opportunity to capture the atmosphere of the event as well as the talent and craftsmanship of cosplaying attendees. This experience is then shared through published articles, photos, and videos on multiple platforms. Camera equipment and technology is an equal a part of the experience. Without one, the other might not exist for Flannel Ninja. The combination of the two creates a wonderful opportunity to learn, entertain, meet new people, and ultimately share the results with a greater online audience.
In all of these areas Flannel Ninja seeks to achieve a high level of journalistic, artistic, and technical quality through collaboration with other creative individuals, skillfully composing his work, and utilizing professional equipment and post processing techniques.
You can learn more about the equipment Flannel Ninja uses at kit.co/flannelninja.
Watch a detailed video about Flannel Ninja's camera rig here: https://youtu.be/7lJZ9hDlmUw